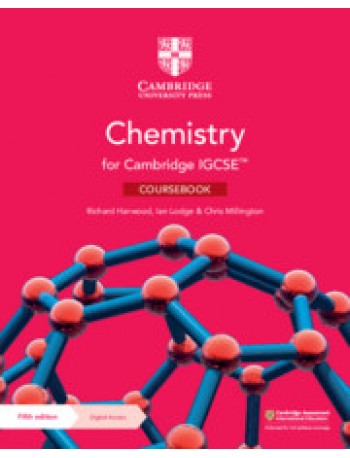 CAMBRIDGE IGCSE CHEMISTRY COURSEBOOK WITH DIGITAL ACCESS (2 YEARS) (ISBN:9781108951609)
Stock:

In Stock

Weight:

0.85kg

ISBN:

9781108951609
This print and digital coursebook has been developed from extensive research through lesson observations, interviews and work with our research community (the Cambridge Panel) to meet specific needs. Activities and questions develop students' essential science skills. Accessible language and features support English as a second language learners. Exam-style questions build student confidence. Projects provide opportunities for assessment for learning, cross-curricular learning and developing skills for life. There are multiple opportunities to engage in active learning, such as discussions and debates, and self-assessment and reflection activities. Answers for all questions and exercises can be found online at www.cambridge.org/go. We are working towards endorsement of these titles by Cambridge Assessment International EducationDevelops student scientific enquiry skills such as making predictions, recording observations, handling data, interpreting data and evaluating methods through the 'Experimental skills' featureProject feature at the end of each chapter supports assessment for learning, cross-curricular learning, skills for life and differentiationEnd of chapter exam-style questions build student confidenceAnswers for all questions and exercises can be found online at www.cambridge.org/go
We are working towards endorsement of these titles by Cambridge Assessment International Education

Develops student scientific enquiry skills such as making predictions, recording observations, handling data, interpreting data and evaluating methods through the 'Experimental skills' feature

Project feature at the end of each chapter supports assessment for learning, cross-curricular learning, skills for life and differentiation

End of chapter exam-style questions build student confidence

Answers for all questions and exercises can be found online at www.cambridge.org/go

'Experimental Skills' feature gives students hands on experience and builds student understanding so they can put theory into a practical context

Features such as summaries and reflection boxes provide opportunities for students to focus on what they have learnt and practise their metacognitive skills

'Science in Context' features with open-ended discussion questions enable students to practise their English skills, interpret ideas in a real-world context, and debate concepts with other learners

Varied opportunities for learners to engage in active learning such as scripting a podcast or voiceover for a video, to creative work such as a comic strip poster, or oral work such as a debate or speech!

Activities build in complexity to support students' learning journeys, and worked examples help them whenever they need to use an equation. All our resources are written in accessible language with features to support our English as a second language learners.