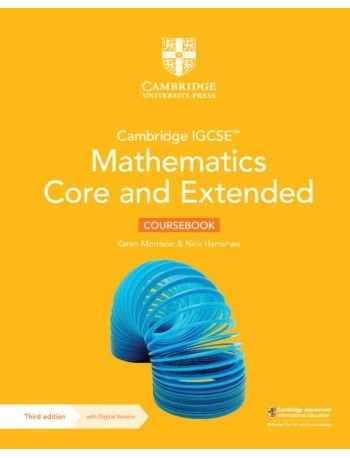 New Out Of Stock
Cambridge IGCSE Mathematics Core and Extended Coursebook with Digital Version (2 Years' Access)9781009343671
Stock:

Out Of Stock

Weight:

0.50kg

ISBN:

9781009343671
The third edition fully covers both Core and Extended content through the 'spiral' approach, where students build on their previous learning as they progress through the course. In addition to a wealth of practice questions and support for English as a second language learners, we have included a number of projects to encourage students to put their theory into practice provided by NRICH – a collaboration between the Faculties of Mathematics and Education at the University of Cambridge. Answers are available on Cambridge GO.
Written by an experienced author and teaching team, who have written the previous first and second editions.

Covers both Core and Extended parts of the syllabus in one book to help with differentiation in the classroom, with Extended content clearly signposted.

'Mathematical connections' feature boxes help learners make connections across different topics whilst working through the chapters of the book.

'Investigation' activities encourage students to extend their learning by investigating a real-life example, or by discussing it with classmates.

New Project activities created by NRICH help students put their learning into practice and develop their problem solving and collaboration skills.

Clear worked examples with visual representations aid learning of challenging areas.

A wealth of practice questions help students develop key mathematical skills and help prepare for assessment.

Support for English as a second language learners with defined key terms and a clear language of instruction.

Answers are available on Cambridge GO.

Tables Of Contents.

Introduction

1. Review of number concepts

2. Making sense of algebra

3. Lines, angles and shapes

4. Collecting, organising and displaying data

5. Fractions, percentages and standard form

6. Equations, factors and formulae

7. Perimeter, area and volume

8. Introduction to probability

9. Sequences, surds and sets

10. Straight lines and quadratic equations

11. Pythagoras' theorem and similar shapes

12. Averages and measures of spread

13. Understanding measurement

14. Further solving of equations and inequalities

15. Scale drawings, bearings and trigonometry

16. Scatter diagrams and correlation

17. Managing money

18. Curved graphs

19. Symmetry

20. Histograms and cumulative frequency diagrams

21. Ratio, rate and proportion

22. More equations, formulae and functions

23. Transformations and vectors

24. Probability using tree diagrams and Venn diagrams

Answers

Glossary.