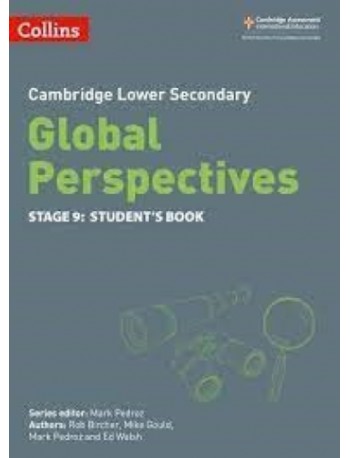 New Out Of Stock
COLLINS CAMBRIDGE LOWER SECONDARY GLOBAL PERSPECTIVES STUDENT'S BOOK STAGE 9 (ISBN: 9780008549404)
Stock:

Out Of Stock

Weight:

0.50kg

ISBN:

9780008549404
The Collins Cambridge Lower Secondary Global Perspectives series offers a skills-building approach to the Cambridge curriculum framework (1129) from 2022. The resources support students to develop skills in analysis, collaboration, communication, evaluation, reflection and research, exploring global issues through rich international sources.
We are working with Cambridge Assessment International Education towards endorsement of this title for the Cambridge Lower Secondary Global Perspectives curriculum framework (1129) from 2022.
This book provides full coverage of the Stage 9 Cambridge Lower Secondary Global Perspectives curriculum framework.
Focused on improving skills: each chapter focuses on a combination of skill strands, building these skills through active learning towards a collaborative final task. In Stage 9, there is a particular focus on constructing effective arguments in writing in preparation for the Checkpoint assessment.
Empower students to engage with a range of contemporary issues and perspectives. In Stage 9 these relate to the syllabus topics, 'Poverty and inequality', 'Media and communication', 'Travel, transport and tourism' and 'Sport and recreation'.
Help students to assess their progress and understand how to improve: the final chapters ask students to apply the skills they have learned across Stage 9, by planning and writing a research report and reflecting on what they have learned from the course.
Encourage reflection through structured Reflection points in each lesson and a self-assessment Check your progress feature at the end of each chapter.
The clear lesson-by-lesson approach allows teachers to easily use the resources in the classroom and build them into their own schemes of work.
The Collins resources can be used as preparation for the Challenges, if schools wish, as some of the chapters in the Student's Book links to the skills and topic focus of a Stage 9 Challenge.