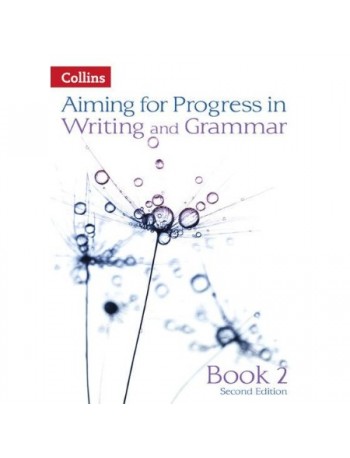 AIMING FOR PROGRESS IN WRITING AND GRAMMAR BOOK 2 (ISBN: 9780007547548)
Stock:

In Stock

Weight:

0.35kg

ISBN:

9780007547548
Description
Help your students make those vital two levels of progress in Reading and Writing with this new KS3 series from Collins.
Each book concentrates on moving students up one level in reading or writing, covering each of the Assessment Focuses in turn.
This revised edition of Aiming for Level 4 Writing offers student-friendly explanations and activities to build, develop and extend students' literacy skills, showing them precisely what they need to do to progress.
Whether you're looking for a one-off lesson, snappy starters or a longer programme of study, these flexible resources are designed to fit around the needs of your teaching and your classes.
Now refreshed to reflect the text types and skills in the new Key Stage 3 curriculum, the Writing and Grammar books also offer comprehensive coverage of the grammar objectives set out in the appendix to the Key Stage 2 English Programme of Study.
This Aiming for book is the perfect starting point for students arriving at secondary school with a secure Level 3 or a low Level 4 in writing. It will help you to
-target areas of underperformance, with a chapter on each writing skill written at the right level by experienced teachers and consultants
-develop the essential writing and grammar skills, with clear, accessible explanations, inspiring examples and lively follow-up activities
-build confidence in grammar to improve students' writing by exploring the effects of other writers' choices
-motivate and engage students, with exciting stimulus texts, fresh approaches to learning and a clear, colourful layout
-embed Assessment for Learning in your day-to-day teaching, with clear learning objectives, criteria for self and peer assessment on every double-page, and end of chapter checklists to help students understand how to progress
-gather evidence for periodic assessments, with the 'Apply your skills' tasks designed to build writing stamina and independence
-plan ahead without the stress, with ready-to-use double-page lessons and a teacher guide at the back of the book
-support the transition to Key Stage 3 by reinforcing and building on the writing skills taught at Key Stage 2.