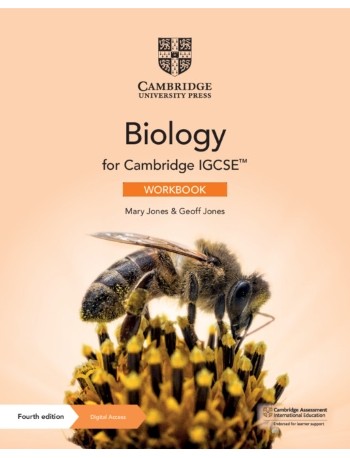 CAMBRIDGE IGCSE BIOLOGY WORKBOOK WITH DIGITAL ACCESS (2 YEARS) (ISBN:9781108947480)
Stock:

In Stock

Weight:

0.35kg

ISBN:

9781108947480
This write-in workbook with digital access is the perfect companion to the coursebook. Learners have the opportunity to practise their essential science skills, including data presentation and analysis, consolidate their understanding, and apply their learning to new situations. Exercises are structured into three levels of increasing complexity: 'focus, practice, and challenge'. They first develop learners' foundation skills, consolidate these skills through practice and then target higher-order thinking skills. As an exercise progresses, the amount of support is also reduced, enabling students to become confident, responsible learners. Answers to all questions and exercises can be found online at www.cambridge.org/go.
Table of contents
1. Characteristics and classification of living organisms
2. Cells
3. Movement into and out of the cell
4. Biological molecules
5. Enzymes
6. Plant nutrition
7. Human nutrition
8. Transport in plants
9. Transport in animals
10. Disease and immunity
11. Respiration and gas exchange
12. Coordination and response
13. Excretion and homeostasis
14. Reproduction in plants
15. Reproduction in humans
16. Chromosomes, genes and proteins
17. Variation and selection
18. Organisms and their environment
19. Human influences on ecosystems
20. Biotechnology and genetic modification.