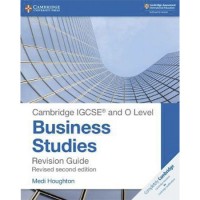 Out Of Stock
Cambridge IGCSE and O Level Business Studies Second Edition Revision Guide (ISBN: 9781108441742)
Stock:

Out Of Stock

Weight:

0.85kg

ISBN:

9781108441742
Build confidence during exam preparation with Cambridge IGCSE® and O Level Business Studies Revision Guide. This comprehensive resource contains specially designed guidance to help students apply their knowledge and skills. Written in a clear style by examiners, this revision guide is perfect for international learners and accompanies the Cambridge IGCSE and O Level Business Studies Coursebook, revised third edition. Answers to revision guide questions are at the back of the book, so students have the freedom to build their skills in the classroom and at home.

Features
Concise and straightforward coverage of the syllabus content aids revision.

Progress Check questions help students test their knowledge and understanding, which aids retention as they work their way through the book.

Definitions of key terms alongside relevant text help international learners with business words and phrases.

Revision Tips remind students about key facts and important points.

Chapter summaries review each chapter and allow you to track revision.

Exam-style questions at the end of every chapter help build confidence.

Answers to the revision guide questions are at the back of the book.

Contents
Section 1. Understanding business activity:
2. Classification of businesses
3. Enterprise, business growth and size
4. Types of business organisation
5. Business objectives and stakeholder objectives
Section 2. People in business:
7. Organisation and management
8. Recruitment, selection and training of employees
9. Internal and external communication
10. Marketing, competition and the customer
12. Marketing mix: product and price
13. Marketing mix: place and promotion
Section 4. Operations management:
15. Production of goods and services
16. Costs, scale of production and break-even analysis
17. Achieving quality production
Section 5. Financial information and decisions:
19. Business finance: needs and sources
20. Cash-flow forecasting and working capital
22. Statement of financial position
Section 6. External influences on business activity:
25. Environmental and ethical issues
26. Business and the international economy
27. Preparing for assessment
Answers to progress check and examination-style questions