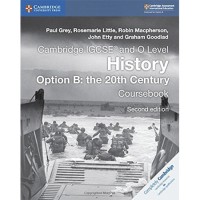 Cambridge IGCSE and O Level History Option B: the 20th Century Coursebook (ISBN: 9781108439497)
Stock:

In Stock

Weight:

0.85kg

ISBN:

9781108439497
Help your students take an enquiry-led approach to historical learning with Cambridge IGCSE
®
and O Level History. Full of activities and primary and secondary sources, this resource encourages the application of historical skills and enables investigative questioning of cause and consequence. Endorsed by Cambridge Assessment International Education for Option B, the coursebook is written by a team of experienced teachers and provides comprehensive coverage of all of the Key Questions and four of the Depth Studies for syllabus Option B: the 20th Century. Sample answers to a selection of the exam-style questions can be found in the teacher's resource. Also provides ideal support for those studying history pre-AICE.
Features
Activities throughout the chapters encourage an exploratory and inquiring approach to historical learning.

A wide range of primary and secondary sources helps students develop their analytical skills.

Comprehensively covers all Key Questions of the Core content so students can feel confident and prepared.

Rigorous coverage of four of the Depth Studies – the First World War 1914-18, Germany 1918-45, Russia 1905-41 and the USA 1919-41 – provides teachers with both detail and choice.

Definitions of key terms displayed alongside relevant text support English as an additional language (EAL) learners' comprehension.

Scene setting chapters on 20th Century and the First World War helps with context setting, especially for students who have not studied this history before.

Dedicated assessment preparation chapter helps students familiarise themselves with course requirements.

Written by a team of experienced teachers to cover Option B: the 20th Century, for first examination from 2020.
Contents
Introductory chapters: Introduction Part 1 What is the big picture of the 20th Century?
Introduction Part 2 The First World War 1914-18
Section A. Core Content: 1. Key Question 1. Were the peace treaties of 1919-1923 fair?
2. Key Question 2. To what extent was the League of Nations a success?
3. Key Question 3. Why had international peace collapsed by 1939?
4. Key Question 4. Who was to blame for the Cold War?
5. Key Question 5. How effectively did the USA contain the spread of Communism?
6. Key Question 6. How secure was the USSR's control over Eastern Europe, 1948-c.1989?
7. Key Question 7. Why did events in the Gulf matter, c.1970-2000?
Section B. Depth Studies: 9. The First World War 1914-18
13. Preparing for assessment