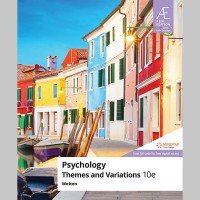 AE Psychology: Themes and Variations 10th Edition (ISBN: 9789814846417)
Stock:

In Stock

Weight:

0.85kg

ISBN:

9789814846417
Cengage
Features

Each chapter opens with an engagement activity that takes on common myths and misperceptions in psychology with a fun, "pub quiz" type of approach.

A highly-praised didactic illustration program features figures, diagrams, photos, tables, and graphs that work hand in hand with the narrative to clarify main points.

MindTap® for Weiten's Introduction to Psychology: Themes and Variations, an interactive online teaching and learning platform, integrates course readings, videos, Weiten-created PsykTrek animations, activities, apps, and assessments into a learning path that guides students through the course.

Seven unifying themes provide threads of continuity across chapters and a forum for a relatively sophisticated discussion of enduring issues in psychology.

A two- to five-page Personal Application near the end of every chapter offers insight into the practical side of psychology by focusing on a single issue, such as improving stress management and finding and reading journal articles.

Critical Thinking Applications do more than simply review controversial research critically, as is typically the case in other introductory texts. Instead, they actually teach students critical thinking skills that they can use in their academic and personal lives.

Reality Checks sprinkled throughout the chapters address common misconceptions related to psychology and provide direct refutations of the misinformation.
Table of Contents
1. The Evolution of Psychology.
2. The Research Enterprise in Psychology.
3. The Biological Bases of Behavior.
4. Sensation and Perception.
5. Variations in Consciousness.
6. Learning.
7. Human Memory.
8. Cognition and Intelligence.
9. Motivation and Emotion.
10. Human Development Across the Life Span.
11. Personality.
12. Social Behavior.
13. Stress, Coping, and Health.
14. Psychological Disorders.
15. Treatment of Psychological Disorders.
Appendix A: Answers to Concept Checks.
Appendix B: Statistical Methods.
Appendix C: Sustainability