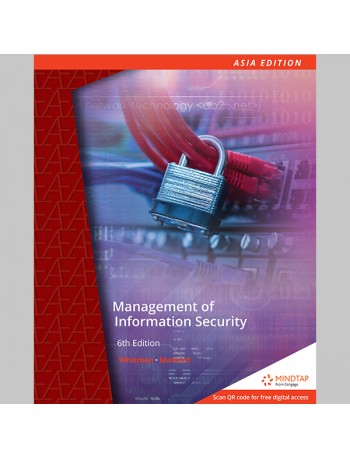 Out Of Stock
AE MANAGEMENT OF INFORMATION SECURITY 6TH EDITION (ISBN: 9789814834735)
Stock:

Out Of Stock

Weight:

0.85kg

ISBN:

9789814834735
Equip your students with a management-focused overview of information security as well as the tools to effectively administer it with Whitman/Mattord's MANAGEMENT OF INFORMATION SECURITY, Sixth Edition. More than ever, we need to prepare information security management students to build and staff security programs capable of securing systems and networks to meet the challenges in a world where continuously emerging threats, ever-present attacks and the success of criminals illustrate weaknesses in current information technologies. This text offers an exceptional blend of skills and experiences to administer and manage the more secure computing environments that organizations need. Reflecting the latest developments from the field, it includes updated coverage of NIST, ISO and security governance along with emerging concerns like Ransomware, Cloud Computing and the Internet of Things.
Features
CERTIFIED INFORMATION SYSTEMS SECURITY PROFESSIONALS (CISSP) AND CERTIFIED INFORMATION SECURITY MANAGERS (CISM) INFORMATION INTEGRATED THROUGHOUT.

WRITTEN BY SECURITY PROFESSIONALS.

"VIEWPOINT" ESSAYS ILLUSTRATE INTRUIGING TOPICS.

ACTIVITIES, QUESTIONS AND PROJECTS REINFORCE SKILLS.

EMPHASIS ON KEY EXECUTIVE AND MANAGERIAL ASPECTS OF INFORMATION SECURITY.
Table of Contents
Unit I: FOUNDATIONS OF INFORMATION SECURITY.
1. Introduction to Management of Information Security.
2. Compliance: Law and Ethics.
Unit II: STRATEGIC INFORMATION SECURITY MANAGEMENT.
3. Governance and Strategic Planning for Security.
4. Information Security Policy.
5. Developing the Security Program.
6. Risk Management: Identifying and Assessing Risk.
7. Risk Management: Controlling Risk.
Unit III: OPERATIONAL INFORMATION SECURITY MANAGEMENT.
8. Security Management Models.
9. Security Management Practices.
10. Planning for Contingencies.
11. Security Maintenance and the Management of Digital Forensics.
12. Protection Mechanisms.