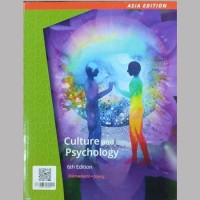 AE Culture and Psychology 6th Edition (ISBN: 9789814834674)
Stock:

In Stock

Weight:

0.85kg

ISBN:

9789814834674
Cengage
Description
CULTURE AND PSYCHOLOGY, 6th Edition illustrates how and why culture influences mental processes and behaviors in humans, and is relevant for anyone interacting with people from different cultures. Incorporating current research that highlights the relationship between culture and psychology, the authors use a cross-cultural framework that gives students the tools necessary for evaluating many psychological processes and principles from a cultural perspective. In addition, the text encourages students to question traditionally held beliefs and theories and their relevance to different cultural groups today, and to apply what they learn to their own lives.
Features
Featuring a strong psychology research base, the book presents the latest findings in cross-cultural and multicultural issues, including coverage of psychological disorders, mental health, enculturation, and psychotherapy.

The book includes distinctive chapters on culture, language, communication, enculturation, and culture and developmental processes.

Comprehensive end-of-chapter summaries/conclusions and glossaries reinforce key concepts and facilitate study and review.
Table of Contents
1. An Introduction to Culture and Psychology.
2. Cross-Cultural Research Methods.
3. Enculturation.
4. Culture and Development.
5. Culture, Self, and Identity.
6. Culture and Personality.
7. Culture and Gender.
8. Culture and Cognition.
9. Culture and Emotion.
10. Culture and Language.
11. Culture and Physical Health.
12. Culture and Psychological Disorders.
13. Culture and Psychological Treatment.
14. Culture and Social Behavior.
15. Culture and Organizations.