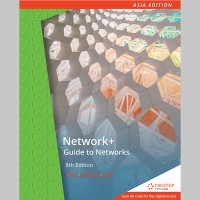 AE Network+ Guide to Networks 8th Edition (ISBN: 9789814834643)
Stock:

In Stock

Weight:

0.85kg

ISBN:

9789814834643
Cengage
Completely updated, West/Dean/Andrews' NETWORK+ GUIDE TO NETWORKS, 8th edition, equips your students with the skills and knowledge to begin an exciting career installing, configuring and troubleshooting computer networks. It thoroughly prepares students for success on CompTIA's Network+ N10-007 certification exam with fully mapped coverage of all objectives, including protocols, topologies, hardware, network design, security and troubleshooting. An all-new structure makes essential information easily accessible and helps students visualize high-level concepts. New virtualization-based projects give students experience working with a wider variety of hardware, software, operating systems and device interactions, while "On the Job" stories, Applying Concepts activities, and Hands-On and Capstone Projects help readers further explore chapter concepts. MindTap Networking is also available.
Features
EXTENSIVE LEARNING TOOLS ASSIST STUDENTS IN COMPREHENSION AND REVIEW.

MindTap Networking for West/Dean/Andrews' NETWORK+ GUIDE TO NETWORKS is the digital learning solution that powers students from memorization to mastery.

UP-TO-THE-MINUTE DISCUSSIONS AND PROJECTS ENSURE CURRENCY.

"ON-THE-JOB" STORIES AT THE BEGINNING OF EACH CHAPTER PLACE CONCEPTS INTO REAL-WORLD CONTEXT.

LEGACY NETWORKING BOXES PRESENT OLDER TECHNOLOGY COVERED ON COMPTIA'S NETWORK+ CERTIFICATION EXAM.

OSI LAYER ICONS VISUALLY REINFORCE THE LINK BETWEEN CONCEPTS AND THE OSI MODEL.
Table of Contents
Introduction to Networking.
Network Equipment.
Addressing on Networks.
Network Protocols.
Network Cabling.
Wireless Networking.
Virtualization, Storage and Cloud Computing.
Subnetting and VLANs.
Network Security.
Authentication and Access Control.
Performance and Recovery.
Wide Area Networks.
Appendix A: Network+ Examination Objectives
Appendix B: CompTIA Acronyms.
Appendix C: Visual Guide to Connectors.
Appendix D: CompTIA Network+ Practice Exam.