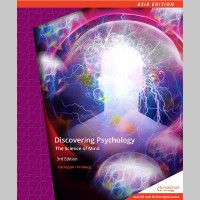 AE Discovering Psychology: The Science of Mind 3rd Edition (ISBN: 9789814834551)
Stock:

In Stock

Weight:

0.85kg

ISBN:

9789814834551
Cengage
Features

"Thinking Scientifically" models critical-thinking skills by providing students with an opportunity to critique a piece of research.

"Visual Summary Tables" present key chapter concepts at the end of each major section, with visual cues to help students remember and learn.

The book explores six integrative perspectives within psychology (social psychology/social neuroscience, cognition, biology/evolution, development, personality/individual differences, and clinical psychology).

"Psychology as a Hub Science," integrated into the chapter narrative and identified by an icon, broadens the discussion of a topic to include ways in which psychology is engaged in cooperative science with other disciplines. This feature helps undergraduates to see how what they are learning in intro psychology will help them no matter what they major in.

Chapter prologues show big picture and micro views of the chapter topic, providing a window into how the integration of psychology as a science provides a larger perspective for the psychology student.

"Interpersonal Relationships" features show how various psychological perspectives (e.g., methodological, social psychological) can be applied to increase understanding of a single topic. The authors explore a topic students from all walks of life will find interesting and relevant -- how to build and maintain significant social relationships.

"Connecting to Research" highlights classic and contemporary studies relevant to chapter material.

"Experiencing Psychology" provides hands-on, experiential activities for students.
Table of Contents
1. The Science of Mind: The Discipline of Psychology.
2. The Measure of Mind: Methods of Psychology.
3. The Evolving Mind: Nature and Nurture Intertwined.
4. The Biological Mind: The Physical Basis of Behavior.
5. The Perceiving Mind: Sensation and Perception.
6. The Aware Mind: Elements of Consciousness.
7. The Developing Mind: Life-Span Development.
8. The Adaptive Mind: Learning.
9. The Knowing Mind: Memory.
10. The Thinking Mind: Cognition, Language, and Intelligence.
11. The Feeling Mind: Motivation and Emotion.
12. The Individual Mind: Personality and the Self.
13. The Connected Mind: Social Psychology.
14. The Troubled Mind: Psychological Disorders.
15. Healing the Troubled Mind: Therapy.
16. The Healthy Mind: Stress and Coping, Health Psychology, and Positive Psychology.