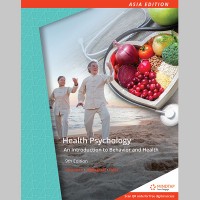 AE Health Psychology: An Introduction to Behavior and Health 9th Edition (ISBN: 9789814834254)
Stock:

In Stock

Weight:

0.85kg

ISBN:

9789814834254
Cengage
Features

The text features offer strong coverage on diversity in health psychology, including international health research; the impact of issues such as ethnicity, age, and gender on health and research; and exploration of the increasing variety of approaches to health care.

Numerous feature boxes discuss interesting contemporary topics such controversy about vaccination, health risks of watching televised sports, chocolate's impact on heart disease, benefits of a cognitively challenging job, and how sleep can affect weight.

"Real World Profiles" engage student interest and show how course topics and chapter concepts can be relevant to situations students encounter in their everyday lives.

A health quiz offers students the chance to test their health knowledge as it relates to their own lives.

An extensive range of pedagogical features -- including self-checks, feature boxes, "Real World Profiles," study aids, applications, hands-on exercises, and activities -- are designed to appeal to students, help them fully understand health psychology, and make the text more interactive and interesting.

A popular "Q & A" feature at the end of each chapter provides answers to organizing questions posed in the chapter opener, allowing students to revisit and reinforce what they have learned. A media resource section lists references and web links that students can use to expand their knowledge of important health psychology topics.

Coverage of physiology and biology is integrated throughout the text rather than placed in a separate chapter. This makes it easier for students who lack a biology or science background to understand and appreciate how these subjects relate to health psychology.
Table of Contents
Part I: FOUNDATIONS OF HEALTH PSYCHOLOGY.
1. Introducing Health Psychology.
2. Conducting Health Research.
3. Seeking and Receiving Health Care.
4. Adhering to Healthy Behavior.

Part II: STRESS, PAIN, AND COPING.
5. Defining, Measuring, and Managing Stress.
6. Understanding Stress, Immunity, and Disease.
7. Understanding and Managing Pain.
8. Considering Alternative Approaches.

Part III: BEHAVIOR AND CHRONIC DISEASE.
9. Behavioral Factors in Cardiovascular Disease.
10. Behavioral Factors in Cancer.
11. Living With Chronic Illness.

Part IV: BEHAVIORAL HEALTH.
12. Smoking Tobacco.
13. Using Alcohol and Other Drugs.
14. Eating and Weight.
15. Exercising.

Part V: LOOKING TOWARD THE FUTURE.
16. Future Challenges.
Glossary.