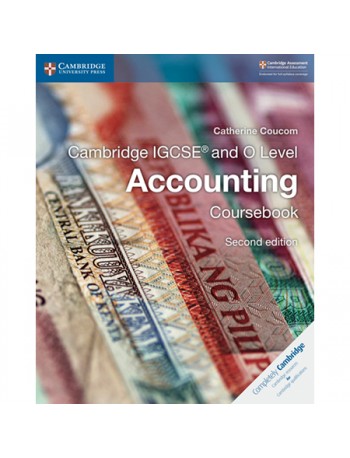 CAMBRIDGE IGCSE AND O LEVEL ACCOUNTING COURSEBOOK (ISBN: 9781316502778)
Stock:

In Stock

Weight:

0.85kg

ISBN:

9781316502778
With more practice questions than the previous edition and content matched to the Cambridge IGCSE and O Level Accounting syllabuses, this coursebook increases understanding of accounting best practice. Clear step by step explanations and instructions help students learn how to record, report, present and interpret financial information while gaining an appreciation of the ways accounting is used in modern business contexts. The coursebook is ideal for those new to accounting. Also available in the series workbook, revision guide, teacher's resource and Cambridge Elevate enhanced edition. Answers to the coursebook and workbook questions are in the teacher's resource.
Features
A range of new practice exercises builds students' accounting skills and confidence with the subject.

Walkthroughs illustrate key accounting principles with absolute clarity.

Key terms highlight and explain important concepts, helping students produce clear and accurate answers.

Test yourself questions reinforce learning and aid self-assessment.

Revision checklists provide a quick summary of the key points covered in a chapter to consolidate learning.
Contents
Where to find each section of the syllabus
Chapter 1. Introduction to accounting
Chapter 2. Double entry book-keeping – Part A
Chapter 3. The trial balance
Chapter 4. Double entry book-keeping – Part B
Chapter 5. Petty cash books
Section 1 practice questions
Chapter 6. Business documents
Chapter 7. Books of prime entry
Section 2 practice questions
Chapter 8. Financial statements – Part A
Chapter 9. Financial statements – Part B
Chapter 10. Accounting rules
Chapter 11. Other payables and other receivables
Chapter 12. Accounting for depreciation and disposal of non-current assets
Chapter 13. Irrecoverable debts and provisions for doubtful debts
Section 3 practice questions
Chapter 14. Bank reconciliation statements
Chapter 15. Journal entries and correction of errors
Chapter 16. Control accounts
Chapter 17. Incomplete records
Chapter 18. Clubs and societies
Chapter 20. Manufacturing accounts
Chapter 21. Limited companies
Chapter 22. Analysis and interpretation
Section 4 practice questions