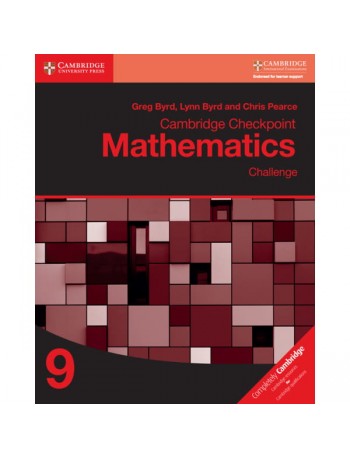 Out Of Stock
CAMBRIDGE CHECKPOINT MATHEMATICS CHALLENGE WORKBOOK 9 (ISBN: 9781316637432)
Stock:

Out Of Stock

Weight:

0.25kg

ISBN:

9781316637432
This Checkpoint Mathematics Challenge Workbook 9 provides further materials for students to develop deeper knowledge of mathematics. Designed to be used upon completion of the corresponding Cambridge Checkpoint Mathematics Coursebook 9 section, students can use this workbook to attempt interesting and challenging problems using their understanding of the concepts learnt.
Features
Interesting challenge exercises help to keep students engaged.

Tougher questioning approaches help challenge and deepen students' mathematical skills.
Contents
1. Integers, powers and roots 2. Sequences and functions 3. Place value, ordering and rounding 4. Length, mass, capacity and time 5. Shapes 6. Planning and collecting data 7. Fractions 8. Constructions and Pythagoras' theorem 9. Expressions and formulae 10. Processing and presenting data 11. Percentages 12. Tessellations, transformations and loci 13. Equations and inequalities 14. Ratio and proportion 15. Area, perimeter and volume 16. Probability 17. Bearings and scale drawings 18. Graphs 19. Interpreting and discussing results